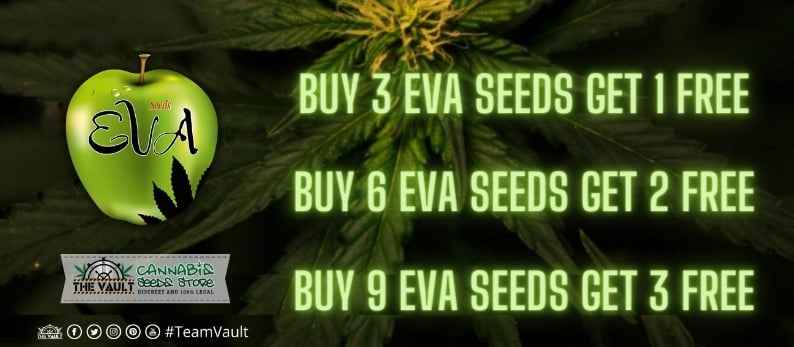 Have you 'Eva' heard of such a great deal? Well, now you have! On top of the usual, yet amazing Vault freebies, discounts, promo's and special offers we have even more free seeds, this time from EVA Seeds.
Buy any 3 pack from Eva Seeds and get 1 free seed

Buy any 6 pack from Eva Seeds and get 2 free seeds
Buy any 9 pack from Eva Seeds and get 3 free seeds
Please note these free seeds will NOT show in your cart summary as they are special packs of 3 + 1 and 6 + 2 and 9 + 3

This offer is on top of our other offers as mentioned above, you can check those out on our discount cannabis seeds page.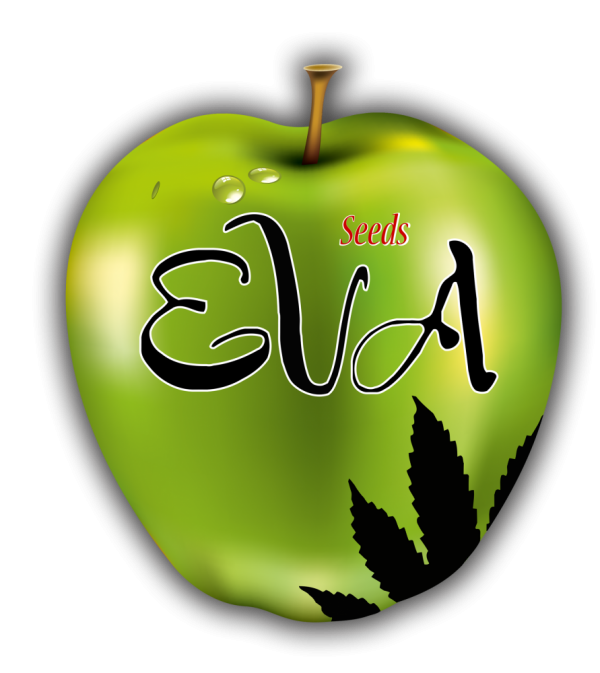 In the world of cannabis seeds, Eva Seeds is a name synonymous with great value, beginner-friendly strains and exotic genetics for the more adventurous souls out there.
Something that you can be sure of when you add an Eva Seeds strain to your collection is that each seed will be big on flavour, huge on yields and of the highest possible genetic quality.
Some of Eva Seeds' most popular strains include…
Missing in Barcelona
Blending High Level with Original Blueberry, Eva Seeds have created an award-winning strain in Missing in Barcelona (MIB) that is a half and half Sativa/Indica heavyweight. Effects are incredibly powerful, with a strong cerebral Sativa vibe, uplifting high and relaxing Indica-influenced body stone, whilst taste-wise, it is one seriously fruity number: Expect tangerine and peach aromas, finished with a sweet, spicy and juicy fruit flavour: Yum!
Furious Candy
By crossing Papa's Candy with White Shark, the resulting strain is a rapid (45-50 day flowering time), mega-yielding delight, with super-sweet, fruity flavours of strawberry bubblegum, hard candies and a floral aroma, with earthy undertones. Thanks to its medium THC levels, this is a fun-loving, easy-going kind of strain for those times when you'd like to chill out and turn that frown upside down!
Pink Plant
As a strain which crosses TNT Kush with High-Level genetics, Pink Plant packs a potent cerebral punch, deals a refreshing eucalyptus taste explosion and emanates a mild, fruity aroma. This beauty won the 1st prize in the Professional Category Copa Natura Verde 2013 and 2nd prize in the Sativa Category Copa Canarias Cup 2014 – and it is easy to see why: It is a true delight!
Bonus: Get 15% off all EVA Seeds at The Vault Cannabis Seeds Store using discount code EVA15 in the cart!
Let us know about your experiences with Eva Seeds and their strains in the comments section below.
Newsletter Sign Up
Make sure you never miss another Vault promo – sign up for our newsletter at https://www.cannabis-seeds-store.co.uk/the-vault-newsletter
Remember: It is illegal to germinate cannabis seeds in many countries including the UK. It is our duty to inform you of this fact and to urge you to obey all of your local laws to the letter. The Vault only ever sells or sends out seeds for souvenir, collection or novelty purposes.