Cannabis-Infused Warm Bacon Cream Cheese Dip
There really isn't anything better over the holidays than a freshly-baked dip to snack on, and today's recipe is no exception. We're making Cannabis-Infused Warm Bacon Cream Cheese Dip!
This dip has been made in my home (sans cannabis) for years.
It's creamy, warm, full of bacon and tasty melted cheese that will melt your heart too!
The comfort of a warm dip over the holidays brings a smile to anyone's face, and now I'm adding cannabutter, so you'll enjoy more than just a smile!
This is best served with a smorgasbord of crackers, pitas, chips, pretzels and artisanal breads.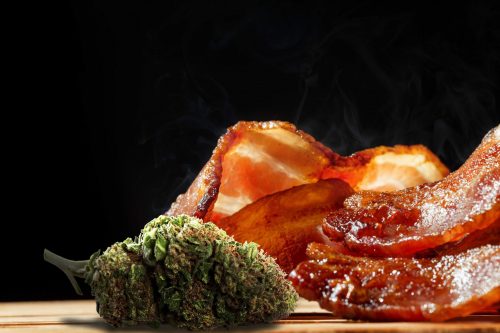 Using Canabutter in Edible Recipes
Let's just make a pact here; please make copious amounts of cannabutter so that the holidays are merry and bright!
Making a large batch will ensure that you have enough to make planned edible recipes and also spontaneous snacks too!
How Do I Make Cannabutter?
No worries – we have the step by step recipe below – it's super easy, and as always we encourage you to decarb your weed first.
With edibles, I always remind readers of what I like to call "The Marijuana Mantra" which is to dose low, and slow.
Edibles take at least an hour or more to 'kick in'. Be careful, no driving, stay inside and enjoy!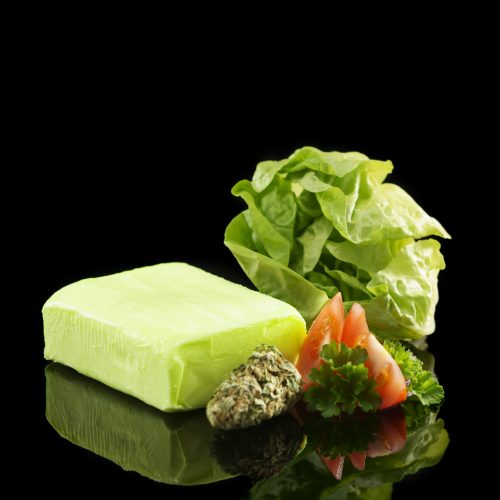 Servings: 1 Cup
Calories: 1628kcal
THC: 700-1400mg
Author: Steph Van De Ven
Ingredients
1/4 to 1/2

Ounce Cannabis

1

cup

Butter
Instructions
Decarboxylate your weed by spreading your cannabis evenly on an oven tray And coat with aluminum foil.

Place in the oven on 240F/115C for 25 till 45 minutes, and then let it cool.

Grind your dry cannabis or chop it till fine.

Place the cannabis in a strong mason jar, add butter and (1 tsp of sunflower lecithin)(optional)

Place your closed jar in cold water and let it come to a boil, Boil for 2 to 3 hours.

Strain your butter through a cheesecloth.

Cool down

Now you can use the Cannabis Butter (Cannabutter)
Notes
If using a mason jar, be sure to start with cold water. Furthermore, it is imperative to let the water cool gradually so that your glass will not shatter.
The video guide might be slightly different than the blog recipe. The blog recipe is the most updated and accurate.
Nutrition
Calories: 1628kcal | Carbohydrates: 1g | Protein: 2g | Fat: 184g | Saturated Fat: 117g | Cholesterol: 488mg | Sodium: 1621mg | Potassium: 54mg | Sugar: 1g | Vitamin A: 5673IU | Calcium: 54mg
Cannabis Edible Recipe Time
Okay friends, it's time to bake and dip! You'll love this recipe, and you'll feel like a Cannachef rockstar because it's decadent and delicious, and takes little time to make.
And of course, you get to use bacon ( and sample some too, I hope!)
Enjoy!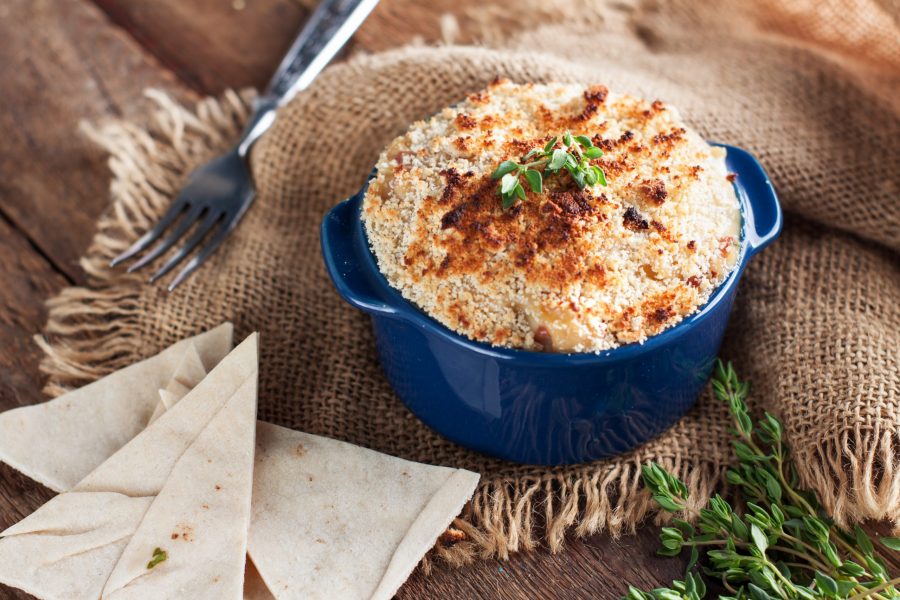 Author: Steph Van De Ven
Cost: 15-20+
Equipment
Mixing Bowl

Spatula

Baking Dish – Large
Ingredients
8

ounces

Cream Cheese

Softened & Full Fat

2

cups

Sour Cream

Full fat

4

tbsp

Cannabutter

2

cups

Shredded Cheese

Tex Mex Mix, Cheddar, or a combo of any cheese you love.

6

slices

Bacon

cooked and crumbled into small bits

1/2

cup

Green onion

sliced into small rings
Instructions
Preheat the oven to 400 F

While your oven is preheating, take al of your ingredients and mix together in your mixing bowl until well-blended.

Spread your mixture evenly into your baking dish

Bake for 25-30 minutes or until cheese is bubbling and hot

Serve with crackers, breads, pretzels, or veggies!
For more delicious edible recipes and tips like a cranberry goat cheese log for the holiday season, click here.
Want to pair up some fantastic CBD & THC Cocktails? Try them here.