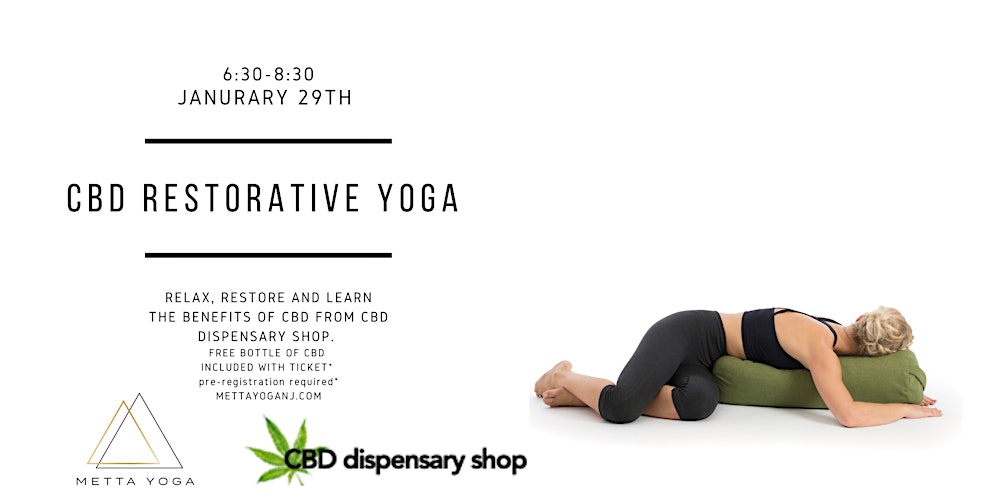 Join us for a night relaxation and restoration while incoporating CBD oil into our restoratuve yoga pracrice as we learn the benefits of CBD from The CBD Dispensary Shop.
If the words "calming and gently relaxing" are sounding a lot like your favorite yoga practice, that's no coincidence—as many yogis are discovering, CBD products and asana practice go together like bolsters and yoga blankets: Two great ideas that are wonderful alone, but totally dynamite together. Because Our CBD contains NO THC it's entirely safe and acceptable to use during a yoga practice or any other regular activities. Benefits of using CBD include:
Relief from anxiety and depression
Relief from Stress
Insomnia
Increased mood
Immune System Support
Pain relief
Decreased inflammation
Increased mood
CBD is a natural fit for a gentle yoga class, but it can also enhance your experience in a more upbeat, quicker-paced flow-style or vinyasa class, especially if you're prone to a wandering mind.
CBD is known to have anxiety, stress, and pain relieving properties. When you use this supplement internally or externally, you will feel the effects systematically throughout your body, because you have an endocannabinoid system that goes throughout your entire body. When you have this amazing supplement combined with the benefits of a restorative yoga class, you will be experiencing the best of both worlds as you relax and are guided through a 60 minute restorative class.
At the beginning of your CBD Restorative Yoga Workshop, in partnership with CBD Dispensary, you will be given a single dose of the 500 mg Broad spectrum sublingual tincture. You will be taught how to take the tincture, and then you will be able to ask any questions you may have about CBD. After the brief educational experience, you will be led through the Restorative Yoga Class, where instructor and stuido owner Jennifer Hansen will offer you the props and the poses necessary to enhance the effects of the CBD. You are not required to take the CBD to attend this class but you are definitely encouraged to do so.
Led by Jennifer Hansen Metta Yoga instructor and owner and Tom Pappas CBD Dispensary CEO.
The AK4 CBD Product line is FDA Approved
Each participant will receive a Free 10 ml bottle (a 1 month Supply) Future purchases can be made at www.CBDdispensaryshop.com.
*no refunds* Space is limited
Yoga Mats Available for rent for $5.