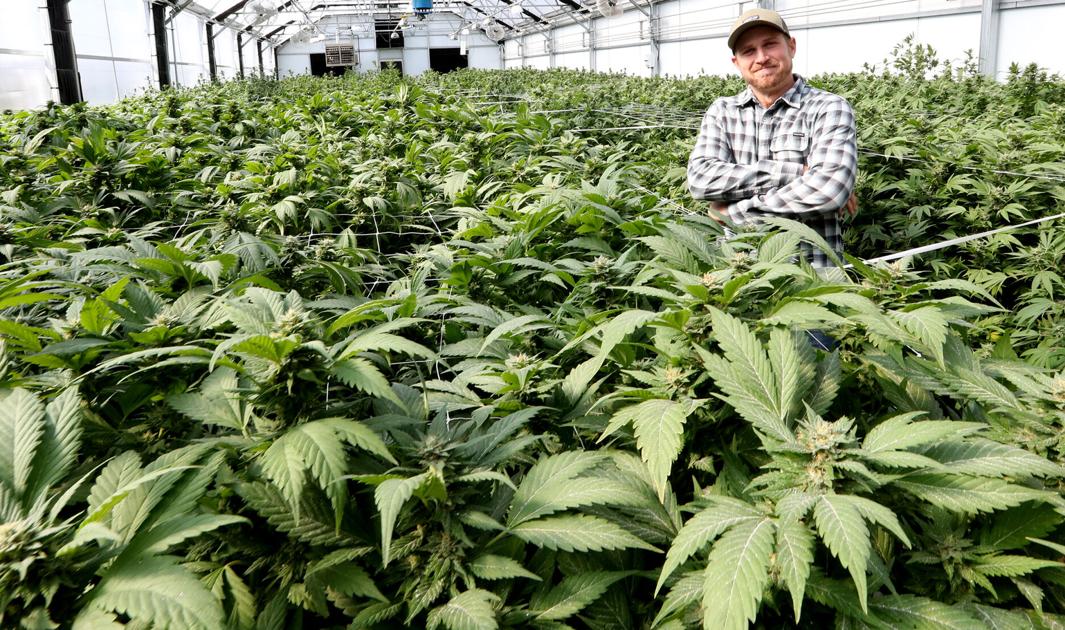 Joey Coleman was flying high in the sky before he came crashing to earth and his life changed.
Now, the 32-year-old Grand Junction native says the sky is the limit when it comes to his budding CBD business.
Coleman was living the life of adventure, sending postcards back home and posting Facebook messages from nearly every continent.
Coaching tennis in Australia, New Zealand and Singapore, climbing mountains in Russia, taking orphans camping in Mongolia, and even sailing a 50-foot sailboat from San Diego to Nicaragua — adventure after adventure.
Coleman was a happily married man living in South America and fueling his adventuresome spirit when his world came crashing to earth on March 1, 2017.
It was a paragliding accident that snapped Coleman's focus into a crystal clear view of the future.
Floating on a breeze in Colombia, Coleman steered his flying vessel toward the landing spot but his chute collapsed, sending him plummeting straight down the final 40 feet.
He slammed to the ground in a sitting position, shredding his back and spine.
"I couldn't move my legs, all I could do was wiggle my toes," he said. "They said it was likely that I would be paralyzed."
Obviously that thought left Coleman paralyzed with fear.
"It was horrifying to hear that. I'm a really active guy, and the thought of not being able to do anything, like hike or little things like that … I don't know who I would be if I couldn't be active."
Coleman did recover but it took time.
A month in the hospital, another month recovering in Colombia and a total of a full year of recovery, and Coleman's Colombian nightmare shifted to an American dream.
HEMP CAME CALLING
The accident and a year of recovery got Coleman thinking about a little something called mortality.
"I hadn't seen my family that much, for like a decade. I was missing my parents and I think breaking my back had a way of opening my eyes to my own mortality," he said.
It was family that came calling with an offer to get into the hemp business.
Back in 2017, Coleman's oldest brother, Nick Coleman, decided to dip into the farming side of hemp production in the Grand Junction area with Desert Flower Farms.
It was also Joey Coleman's painful spine injury that opened his eyes to the benefits of CBD.
"My brother talked to me about CBD and I didn't know much about it," Joey said. "I started using it a little and it helped me with my back pain.
"I was in pain in whatever I did. It really helped me with recovery and soreness and sleep," he said. "I had basically written off sleep forever, I didn't think I would ever sleep through the night again."
Joey and his wife, Kelsey, had been running a charter sailing business and managing a hotel in San Juan Del Sur, Nicaragua, but after the family sales pitch, they were convinced and ready to focus on a business venture.
They returned to Colorado in the summer of 2018 and Joey joined forces with Nick and their dad Joe in growing hemp.
A greenhouse facility was built in 2018 and this summer they officially became a "seed to shelf" operation with CBD products available for retail purchase.
KAI CBD produced its first product two months ago.
SEED TO SHELF
Last week, standing in the hemp greenhouse, surrounded by nearly 500 hemp plants, Joey Coleman sounds like a proud dad, explaining how the seed-to-shelf business works.
He also grins when talking about the farming part of the industry.
"The first year I did a lot of farming with my brother because we went so big, so we had to have all hands on deck," he said. "I've worked a lot of different jobs in my life including being a laborer, and farming is a total different animal.
"Props to all the farmers out there. It's not easy. There are no guarantees is the big thing. You can put in a lot of work and you don't know how things are going to work out."
Nick Coleman, 42, said his brother was an essential part of the operation basically from the start.
"We've been collaborating really from the beginning with Joey handling the marketing and social media part of the operation, and now the retail part with KAI CBD," Nick said. "He's really good at all that and I know how to grow."
The seed-to-shelf process is pretty simple. Cut the hemp, hang dry the hemp for a few weeks, then put the hemp through an extraction process to get a CBD paste that will then be turned into oils and balms.
Joey chuckles when he talks about the whirlwind of change that came with a lot of learning.
"I literally knew nothing about CBD. I heard of it but that was it," he said. "All I knew at the time was it did a world of good for me."
Starting a business operation in a new field — both figuratively and literally — meant everyone in the business needed to educate themselves.
The hemp process starts in the greenhouse with pieces of the "mother" plant transplanted into the field, Joey explained.
Part of the learning process came with experimenting with different strains, sending samples to labs for testing and evaluating those tests.
"We're looking for the highest CBD yielding plant with very little to no THC, that's our goal," Joey said.
CBD products must contain 0.3% or less of THC, which is the psychoactive ingredient in cannabis.
LEARNING CURVE
Every step of the seed-to-shelf operation has been a learning process for both Joey and Nick Coleman.
The current fall hemp harvest is in the slow drying stage in a facility at 60 degrees and 60% humidity.
"It's like cooking a brisket, low and slow," Nick said.
Understanding the hemp plant and understanding CBD were vital parts of the learning process.
"Genetics play a role in what yield you get from the CBD, and that to me is the best part of this," Nick said. "I really geek out on the genetics," he said smiling.
Even the name KAI was borne out of Joey Coleman's adventurous spirit.
KAI (pronounced "Ki") comes from the Hawaiian word meaning "sea" or "ocean."
"When I was first recovering after my accident, everything hurt me but swimming in the ocean. I was doing nothing but swimming for a long time."
Like everyone who has remained in the hemp and CBD industry, Joey and Nick Coleman, 42, still have concerns over the market and possible future adjustments by the the federal government like the Food and Drug Administration.
Austin Goodman, CEO of American Standard Hemp, has been working with the Colemans helping them understand many of the challenges. He said more regulations will be a great thing for the industry.
"It's not a question when (federal agencies) will come in and start regulating, it's more about how, and how they do that is the big question," Goodman said. "I welcome that because it's very much needed from a quality control aspect."
KAI CBD is now available at kaicbdco.com and at Cafe Sol in downtown Grand Junction.
It's been an interesting journey for Joey Coleman, putting his adventurous past behind him to focus on hemp and CBD.
"I wanted to move back but I didn't really have a business opportunity where I could make a living before, so this was a big part of the decision," he said.
As for future adventures, he stills plans to be active hiking, mountain biking and being in the outdoors.
But what about paragliding?
"I won't ever do that again," he said smiling. "I'll do a lot of other things, but I'm done with paragliding."
Source: https://www.gjsentinel.com/news/western_colorado/from-hemp-to-a-new-cbd-business/article_664ed294-1226-11eb-95f1-03545749e9d2.html
» Inline Ad Purchase: Intext Link