Cannabis-Infused Apple Crisp
Want to make Cannabis Apple Crisp? For many of us lucky to have or be in proximity to fresh, crisp, and delicious apples – there's nothing better than an ooey-gooey decadent dessert with weed wafting from the oven!
Whether we want to admit it or not, Autumn is fast approaching, and with it comes the wonderful aromas of warm spices like cinnamon, pumpkin spice, and warm apple crisp. YUM!
This super tasty and potent weed edible will definitely satisfy your hunger and leave you feeling good after.
What You Need To Make Cannabis-Infused Apple Crisp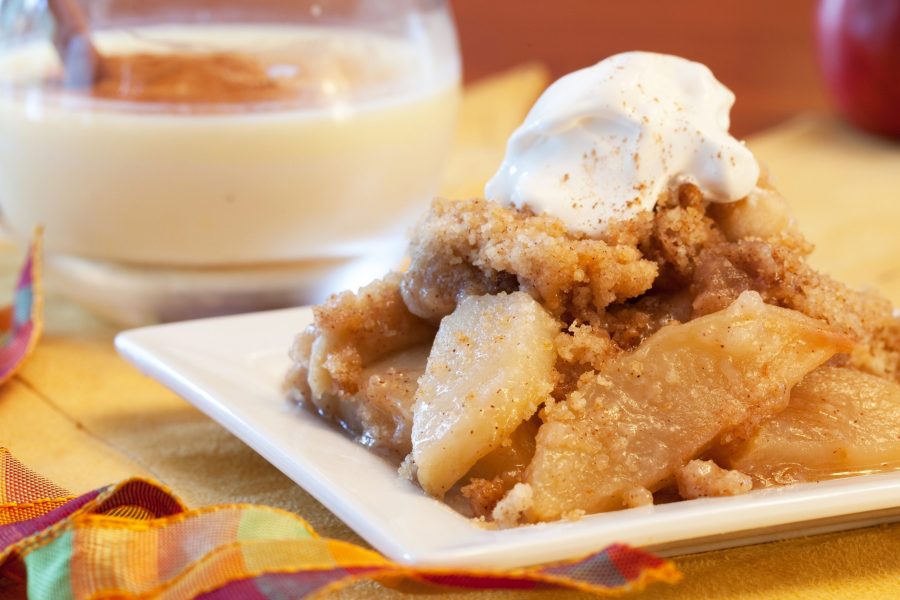 There is one ingredient you won't find in your kitchen cupboard (most likely) which is cannabis butter! This versatile cooking medium is needed for this recipe and makes it pot-perfection in a dish. If you want to learn more and become an even better Canna Chef, check out our cookbook.
You can use Grannysmith, Golden Delicious or Honeycrisp for this crisp because they're some of the best apples to use in baking because they're hardy and stand up to heat and retain their apple-y flavor.
Top Your Dessert with Cannabis-Whipped Cream!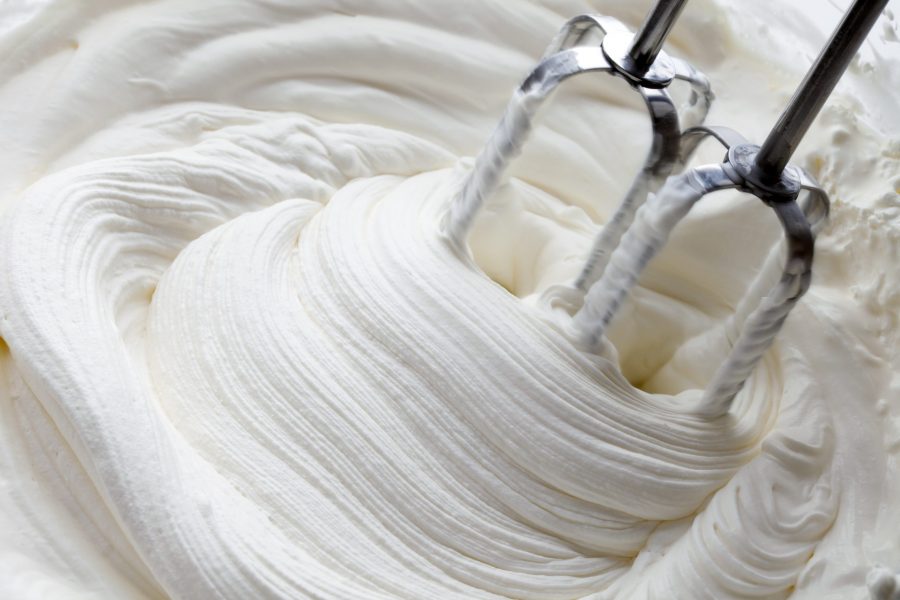 Yes, seriously. It's SO good. We call it Canna-Whipped Cream and it's a weed lovers dream. Load up your apple crisp with this for an elevated dessert that everyone will drool over.
Check out our recipe below and enjoy Cannadishers! For more recipes with Weed or CBD check it out here.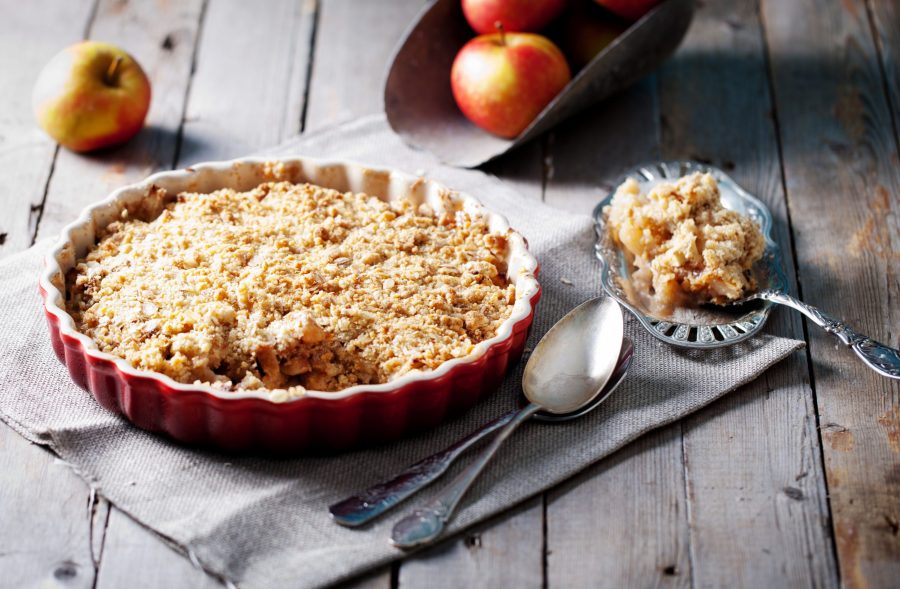 Servings: 6 people
Calories: 315kcal
Author: Steph Van De Ven
Cost: 25
Equipment
Oven

9 x 13 oven safe pan

Mixing Bowl

Mixing spoons

Measuring cups

Parchment Paper
Ingredients
10

cups

apples

peeled, cored,sliced thinly

1

cup

white sugar

1

cup

quick cooking oats

1

cup

all-purpose flour

1

cup

brown sugar

1/2

cup

Cannabis Butter

melted just slightly

1/2

cup

water

1

Tbsp

all-purpose flour

1

tsp

ground cinnamon

1/4

tsp

baking soad

1/4

tsp

baking powder
Instructions
Preheat the oven to 350F (175C).

Place parchment paper to cover the entire bottom of the pan, and then add the (sliced, peeled, cored) apples in the pan. Mix together the white sugar, 1 tablespoon of flour, and ground cinnamon all together. Sprinkle over top of the apples.

Pour 1/2 cup of water evenly over all the apples.

In a mixing bowl, combine together the oats, 1 cup of all-purpose flour, packed brown sugar, baking soda, and the melted cannabis butter.

Crumble evenly over the apple mixture.

Put in the oven and bake for about 45 minutes at 350F (175C).

Let the crisp cool for 5 minutes, Enjoy!

Add Whipped Canna Butter to the top!
Nutrition
Calories: 315kcal
Whipped Canna-Butter!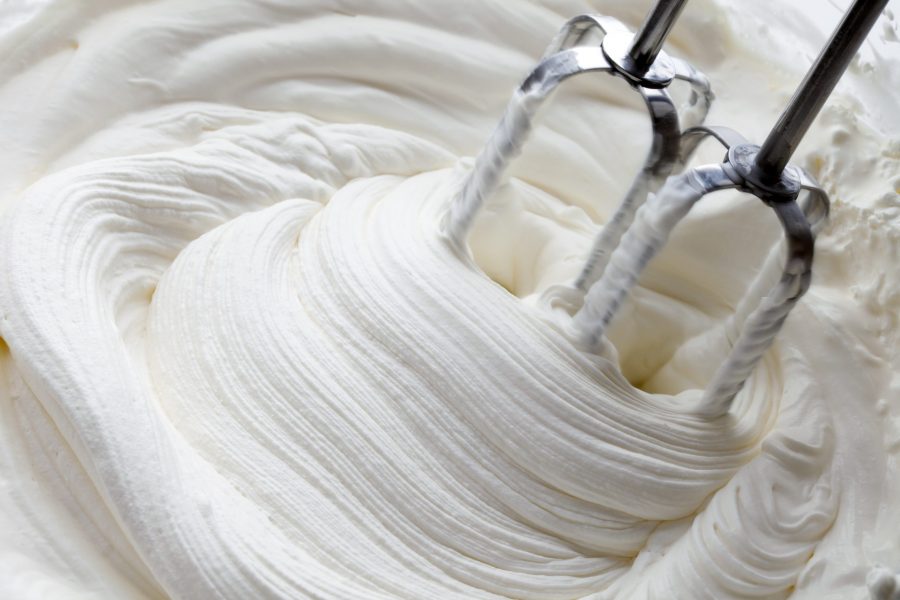 Servings: 4 people
Author: Steph Van De Ven
Cost: 10
Ingredients
1/2

ounce

cannabis, finely ground

1

cup

heavy cream

1

tsp

vanilla extract

1

tbsp

powdered sugar
Instructions
Heat heavy cream and cannabis in double boiler over medium heat.

Simmer for at least 2 hours, stirring occasionally.

Remove the boiler from the heat and let the mixture cool

Prepare your Tupperware container by taking 2 sheets of the cheese cloth and securing it over the lid of the container. Check to see if your cream mixture is is cool enough to handle.

Pour the cream slowly over the top of the cheesecloth and into the container. Repeat this step as necessary to strain all of the plant material from the cream.

After a few minutes pour the cream into an airtight container and store in the refrigerator until cold.

Pour the cold cream into a large bowl. Whip the cream until it is thick enough for your tastes.

Beat in the vanilla extract and sugar gently. Over-beating will result in lumpy whipped cream

Serve and enjoy. Keep refrigerated.