– Ad –
MAGA CBD is a cannabidiol oil recently featured on Newsmax, OAN, and other media. The CBD oil uses nano-emulsion technology to deliver a strong dose of CBD to your body. Each bottle contains 1,000mg of CBD and a unique apple pie flavor.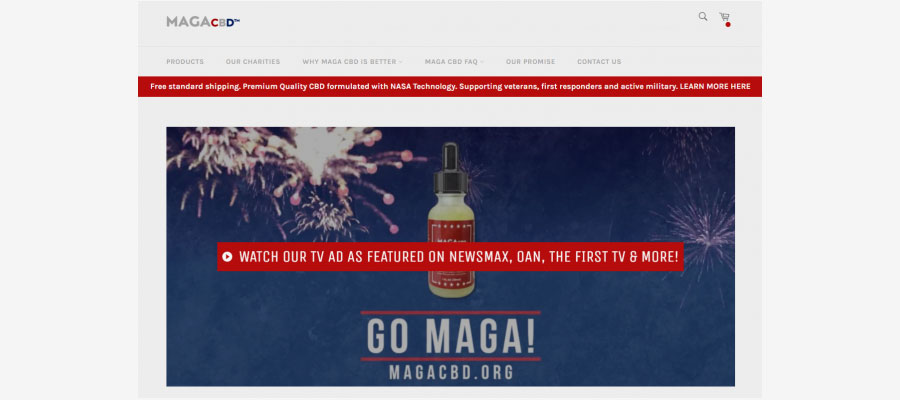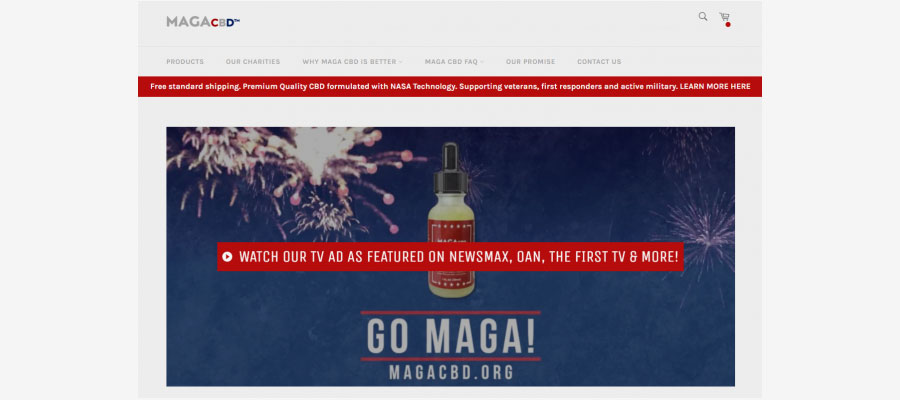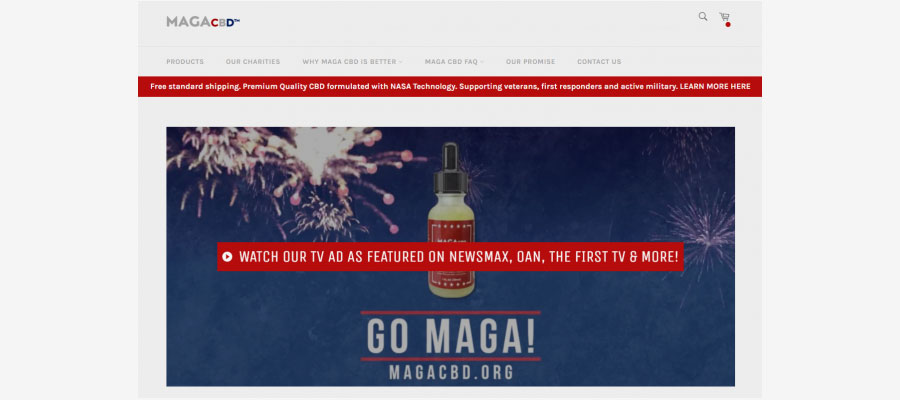 What's the story with MAGA CBD? How does MAGA CBD work? Find out everything you need to know about MAGA CBD today in our review.
What is MAGA CBD?
MAGA CBD is a new CBD oil available through MAGACBD.org.
MAGA CBD claims to use a proprietary suspension system to hold CBD oil and water together in perfect balance, making it easy for your body to absorb the formula. The company also claims to use NASA's "zero gravity patented technology" to increase absorption into your body.
Overall, MAGA CBD seems similar to other CBD oils sold online today but with one major difference: MAGA CBD markets itself to more conservative audiences. The company has bought airtime on OAN, Newsmax, and similar media in recent weeks.
As you may have guessed from the name, MAGA CBD is marketing itself, particularly towards Trump supporters.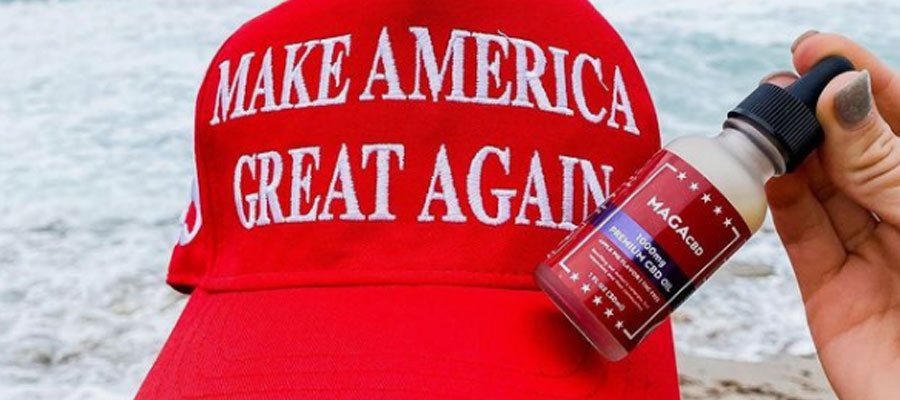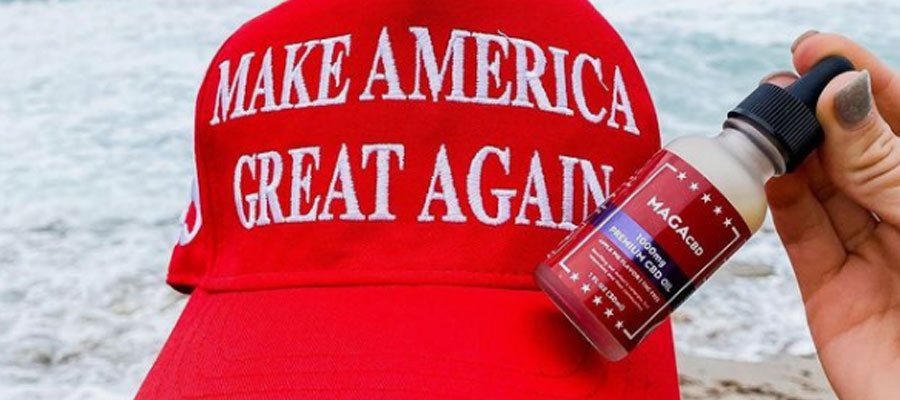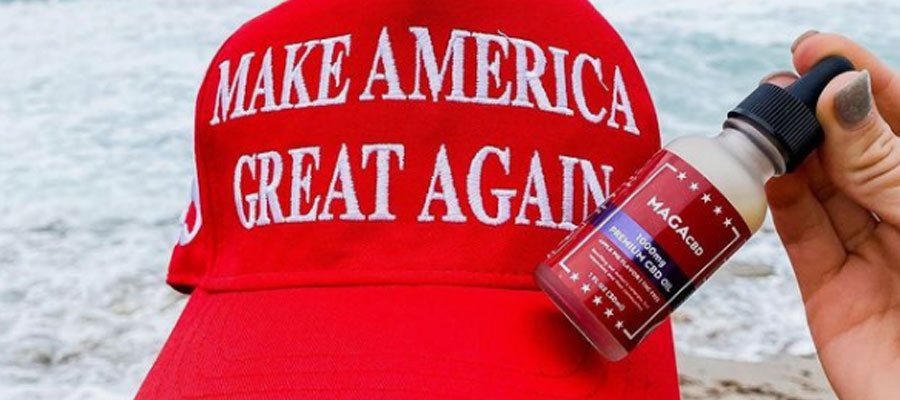 The CBD oil was launched with the slogan, "Making America Grateful Always," which is a nod to its charity initiatives.
Let's take a closer look at how MAGA CBD works and what makes it different from other CBD oils.
How Does MAGA CBD Work?
MAGA CBD works similarly to other CBD oils. Each bottle contains 30mL of liquid formula. That liquid formula contains 1,000mg of total CBD.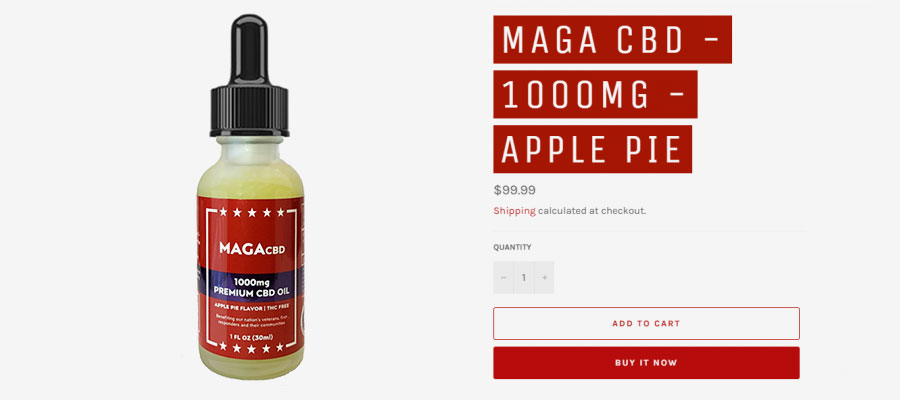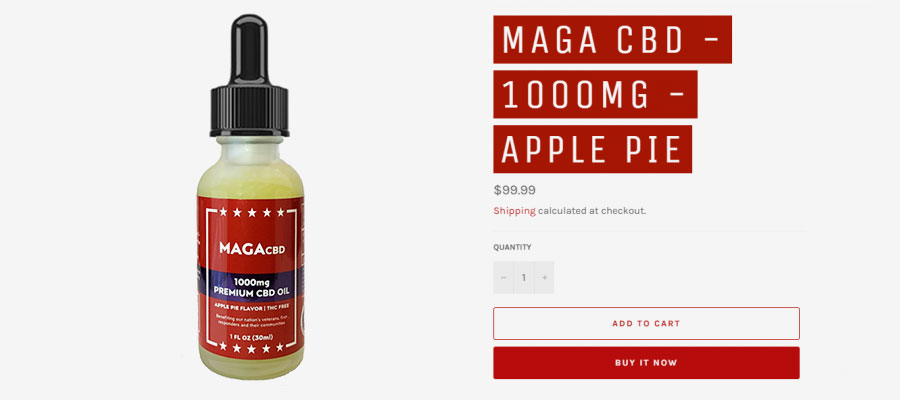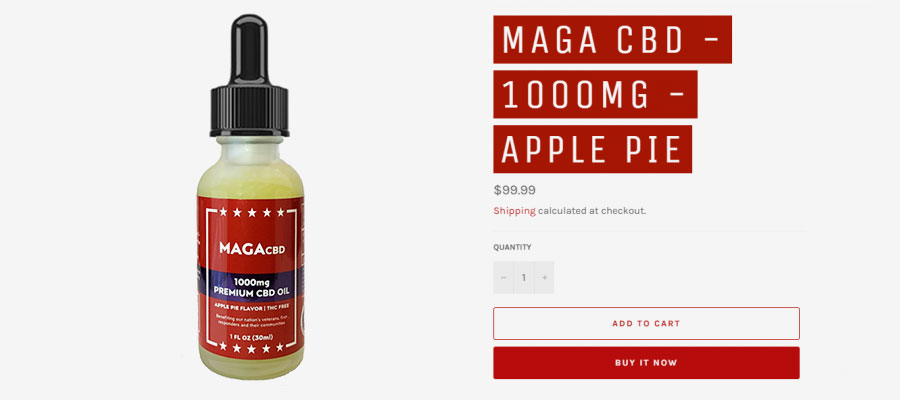 You use the dropper to apply drops underneath your tongue (sublingually) for maximum absorption.
You can also mix the CBD drops into shakes or beverages, although it won't get absorbed as easily or quickly.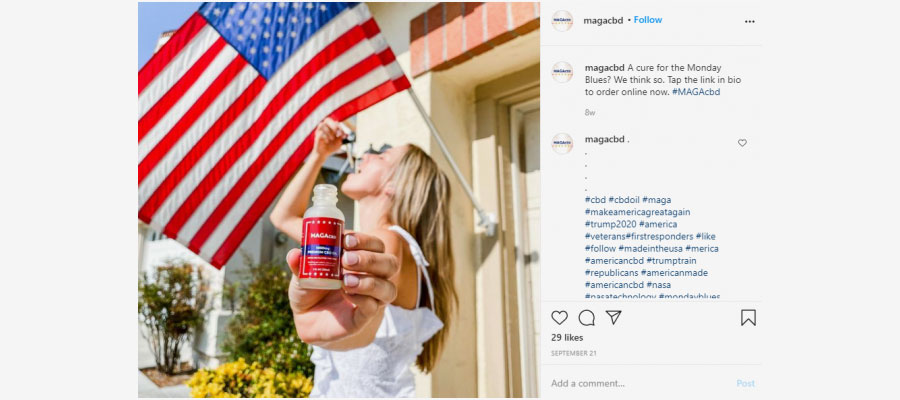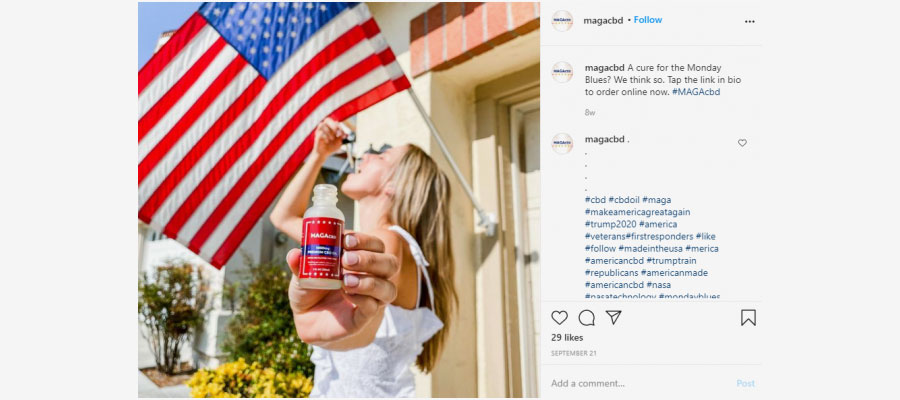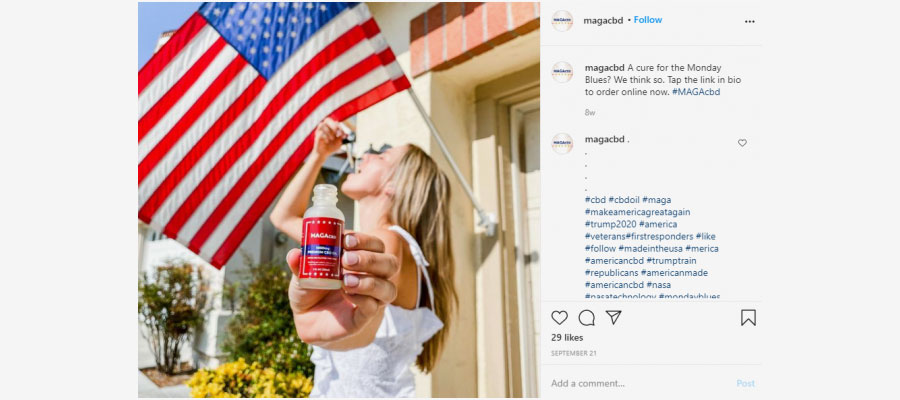 At $99 for each small bottle, MAGA CBD is more expensive than other 1,000mg CBD oils available today, and it's not clear why it's so much more expensive. Some of the top-rated 1,000mg CBD oils available today are priced between $50 and $75, including CBD oil tinctures from reputable brands. cbdMD's 1,000mg CBD oil tincture, for example, is just $75, while Royal CBD sells a $50 bottle.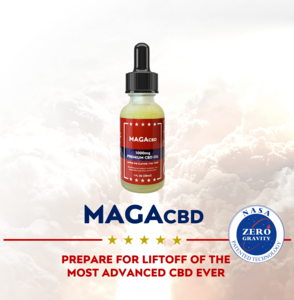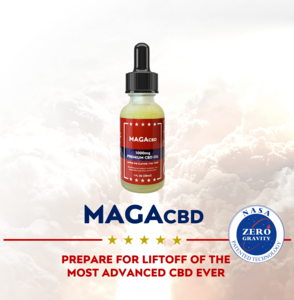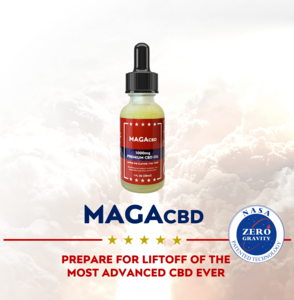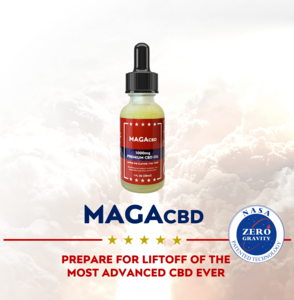 To justify its higher pricing, the makers of MAGA CBD emphasize unique technologies inside the tincture, including stem cells, lipid infusion, and NASA water suspension technology. We'll talk more about those unique differences below.
What Makes MAGA CBD Different?
You can find hundreds of CBD oil tinctures available online that offer similar doses to MAGA CBD – often at a much lower price.
So what makes MAGA CBD different than competing CBD oils? How does MAGA CBD justify its higher price tag?
Here are some of the things the company emphasizes that make MAGA CBD different from competing tinctures:
Grown in the United States
Virtually all CBD oil tinctures sold in the United States use CBD sourced from hemp grown in the United States, and MAGA CBD is no exception.
NASA Technology
MAGA CBD makes a big deal out of its NASA patented technology. NASA is not affiliated with MAGA CBD in any way. However, MAGA CBD uses a NASA-patented oil suspension system to enhance the bioavailability of its formula. Most other CBD oil tinctures use a similar oil suspension system for bioavailability. It's unclear if MAGA CBD has better bioavailability than competing products due to its NASA technology or if it's roughly the same.
Stem Cells
MAGA CBD's NASA technology is also linked to stem cells. Your body naturally produces stem cells. NASA Scientists found that culturing stem cells in zero-gravity environments led to a distinct advantage. Stem cells formed a 3-dimensional shape, replicated more quickly, and were more robust. MAGA CBD claims to take advantage of this stem cell system by using NASA's 3D stem cells in its technology. Although we're unsure why there would be any stem cells in a CBD oil tincture product, this all sounds good.
CBD-O3 Technology
MAGA CBD has one more NASA technology in its formula called CBD-O3. To create CBD-O3, the team infuses natural hemp oil with "medical grade oxygen," then passes the hemp oil through "a time-varying electromagnetic field designed by NASA." According to the official website, passing the CBD oil through this field, "stimulates and enhances the natural benefits and therapeutic properties" of the CBD oil, leading to increased bioavailability and absorption.
Lipid Infusion vs. CO2 Extraction
Most CBD oil tinctures use CO2 extraction to remove CBD from hemp. MAGA CBD, however, uses lipid infusion, which uses fatty acids to encapsulate compounds and preserve the qualities of CBD and the hemp plant, leading to better absorption. It's important to note that MAGA CBD is not full-spectrum hemp oil, despite what the website suggests.
Charity Initiatives
MAGA CBD also distinguishes itself from other competing CBD oil products is by emphasizing its charity initiatives. The CBD oil company supports veterans and first responders, for example, and proudly mentions this fact directly on the label.
It's important to note that MAGA CBD does not claim to be organically certified, nor does it have USDA Organic certification. USDA Organic certification is rare in the CBD tincture space, although many supplements still claim to be organic certified based on other metrics. MAGA CBD does not claim to have any organic certification type, which could mean more toxins in the finished product (from pesticides and similar chemicals) than organic CBD tinctures.
Overall, MAGA CBD's website tosses around many scientific terms like stem cells, NASA, and lipid infusion to justify its high price tag. However, the company does not provide much evidence proving its formula is easier for your body to absorb.
MAGA CBD Lab Tests
MAGA CBD publishes lab test results online, which is a must for any CBD company.
The test identified the total cannabinoid content of the MAGA CBD tincture, finding 4.401% of total CBD in the liquid formula and 0.012% of THC.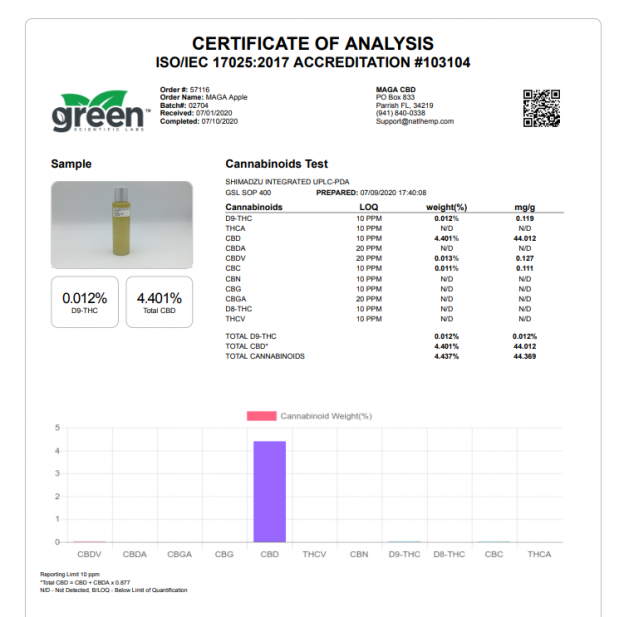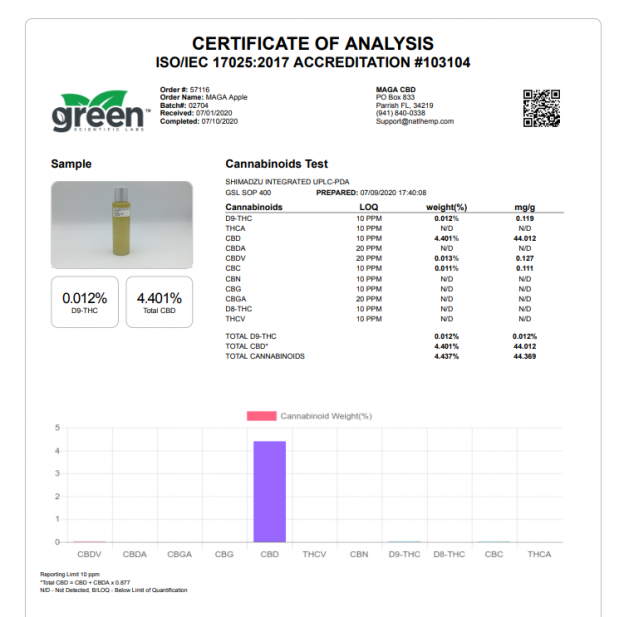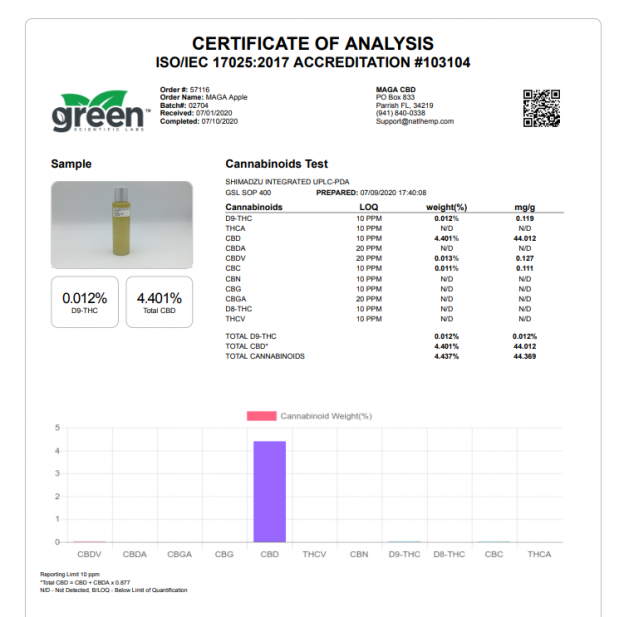 Effectively, that means there was 0% THC in the finished product, and MAGA CBD mostly consists of CBD instead of other cannabinoids.
Some CBD oils have an 'ND' rating for THC, which means No Detection. MAGA CBD's THC content was slightly above this threshold.
During testing, MAGA CBD was found to have 44mg of CBD per gram. That should mean each 30mL bottle has equal to (or more than) the advertised dose of 1,000mg.
Overall, lab tests show that MAGA CBD contains the advertised amount of CBD, if not more than the advertised amount, with virtually zero THC.
Green Scientific Labs performed the test.
MAGA CBD Pricing
MAGA CBD is priced at $99.99 per 30mL bottle: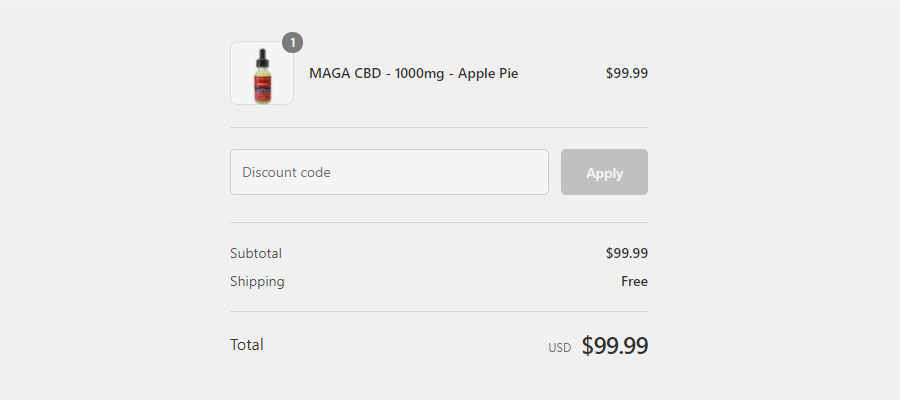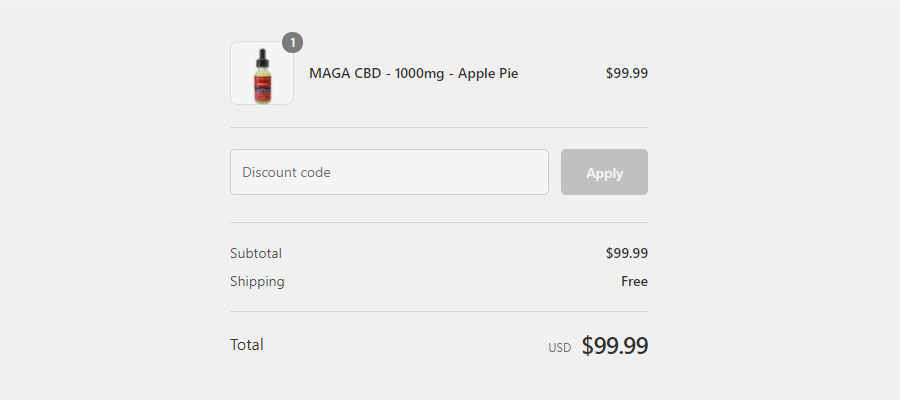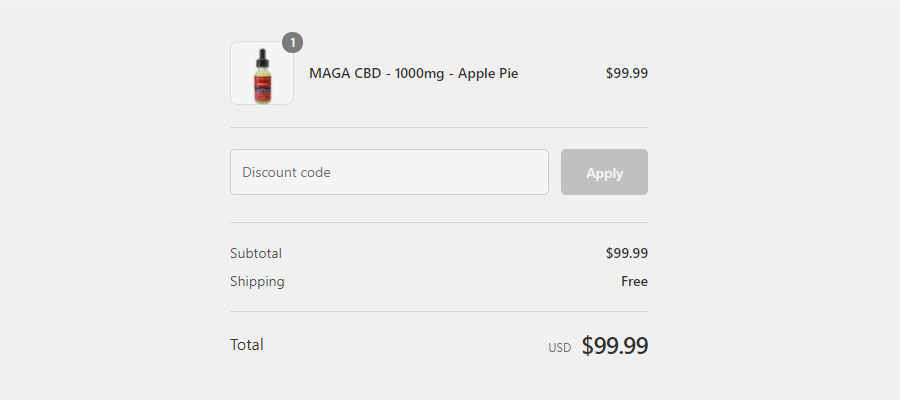 1 Bottle: $99.99 + Free Shipping
All purchases include free 2-3 day shipping to the United States.
At launch, MAGA CBD is only available in one flavor: apple pie.
MAGA CBD Refund Policy
MAGA CBD comes with a 30-day money-back guarantee.
You can request to complete a refund on your purchase with no questions asked, although the company will keep your initial shipping fee. You must return the bottle to qualify for a refund, even if the bottle is empty.
Returns Address: PO Box 833, Parrish, FL 34219
Who's Behind MAGA CBD?
National Hemp and CBD, Inc operates the MAGA CBD website. The company lists a post office box in Florida as its registered address. Aside from this information, the makers of MAGA CBD provide limited information about themselves or their background online.



As part of its "Making American Grateful Always" initiative, MAGA CBD contributes "a portion of our net profits" towards three charities, including A Soldier's Child, Tunnel 2 Towers, and the Travis Mills Foundation.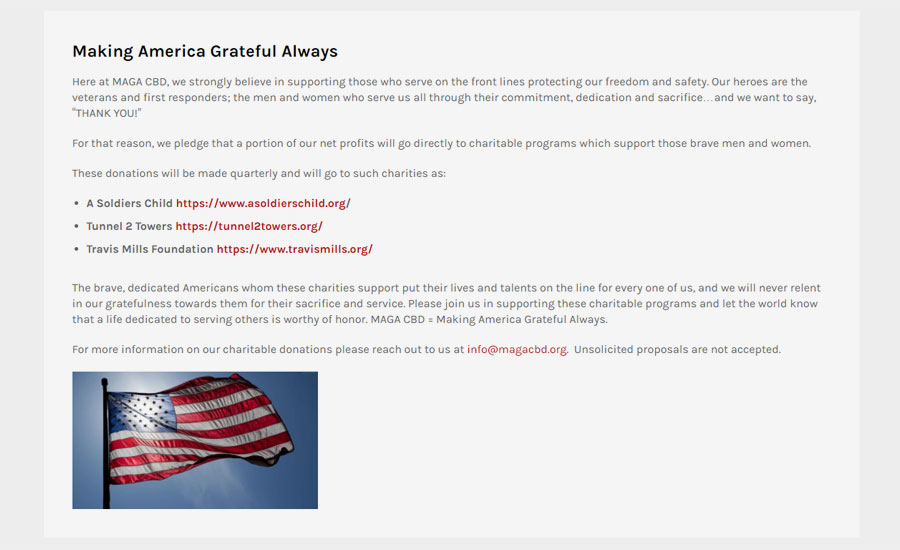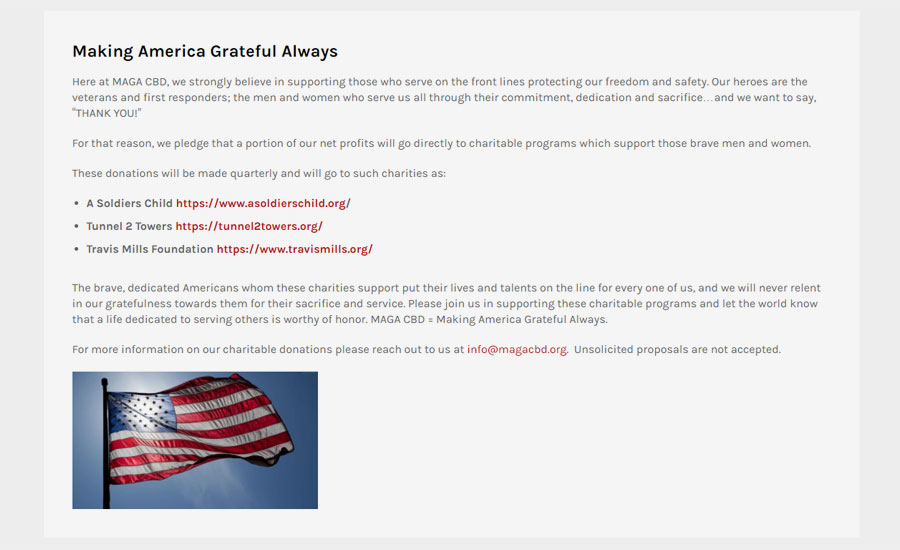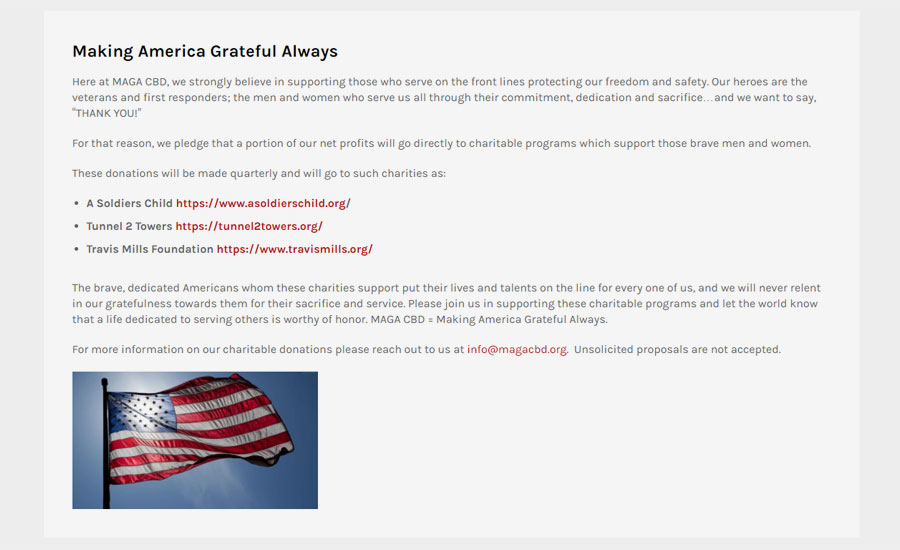 You can contact the makers of MAGA CBD via the following:
Email: [email protected]
Phone: (833) 223-6242
Mailing Address: PO Box 833, Parrish, FL 34219
The company manufactures, cultivates, and grows its hemp in the United States.
Final Word on MAGA CBD
MAGA CBD is a new CBD oil tincture that claims to be more bioavailable than competing tinctures. At $99 for 1,000mg of CBD in a 30mL bottle, MAGA CBD is priced higher than competing options, although the company emphasizes the use of NASA technology to boost absorption.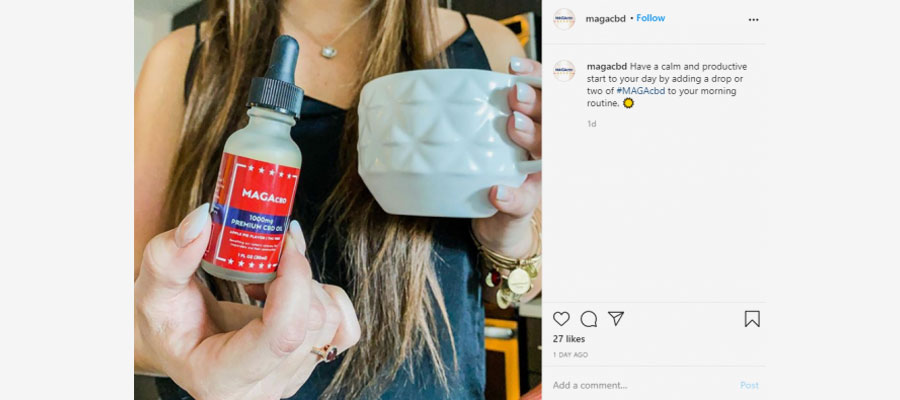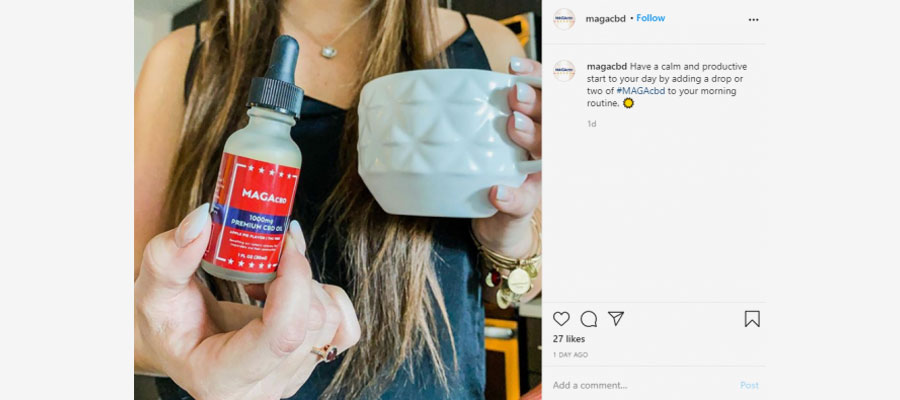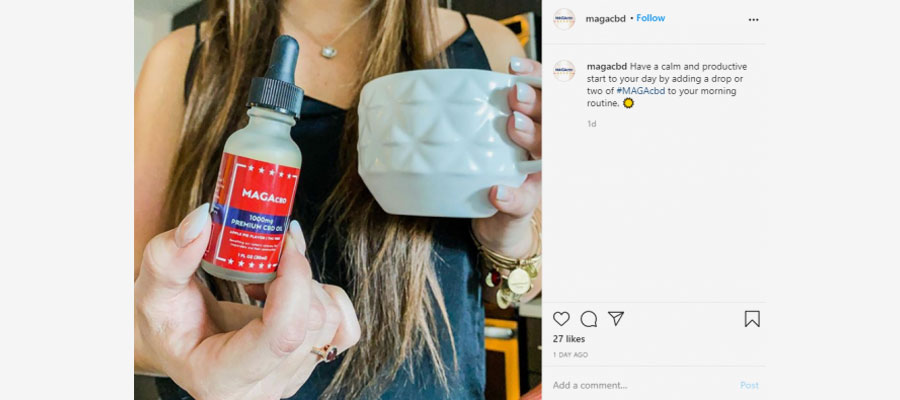 Overall, you can find similar CBD oil tinctures available online at a lower price, and it's hard to verify that MAGA CBD has better absorption than competing formulas. However, lab tests show that the tincture does have the advertised amount of CBD, and some people like the company's Trump-centric marketing even if it means paying a premium price.
To learn more about MAGA CBD or to buy online today, visit MAGACBD.org.
Source: https://timesofcbd.com/maga-cbd/
CBD For Pets – As your pets age, they need CBD too… heal their pain and make them young again!
CBD Capsules offer a convenient way to take CBD on the go or for those who may not like the taste of our tinctures.
Learn How to Start Your Own CBD Business From Home – Cash In on the Green Rush and Join the Power Team Today!
CBD Tincture – Enjoy the benefits of our full spectrum CO2 extracted CBD
Bio CBD PLUS – The Most Effective CBD on the Market!
---
» Inline Ad Purchase: Intext Link