AUBURN, Alabama–After having two players selected in the first round of the 2020 National Football League Draft and six total players drafted for a second consecutive season, it will be a surprise if there is a similar number of Auburn Tigers drafted next year.
Heading into the 2020 season a survey by CBS Sports of the Top 100 prospects for the 2021 NFL Draft includes just one Tiger, junior wide receiver Anthony Schwartz.
The fastest player on the Auburn roster, Schwartz caught 41 passes for 440 yards and one touchdown in 2019. That ranked second on the team behind Seth Williams, who finished his sophomore season with 59 catches, 830 yards and eight touchdown receptions.
Schwartz, a member of Auburn's track and field team as a sprinter, carried the football 12 times for 118 yards and two scores as a sophomore.
As a freshman Schwartz caught 22 passes for 357 yards and two touchdowns while running the football 27 times for 211 yards and five scores.
With new offensive coordinator Chad Morris on board for the 2020 season, Schwartz could have a chance to boost his statistics with the Tigers expected to pass more often with Bo Nix returning as the starting quarterback.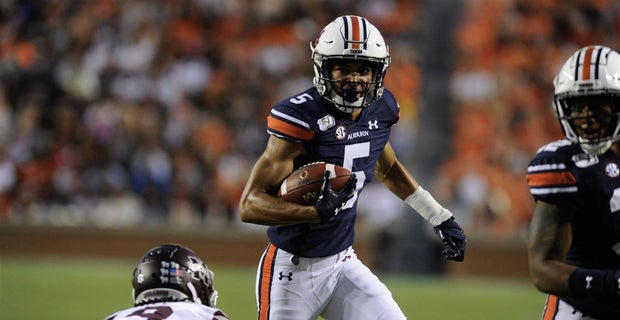 The top-rated receiver in the CBS survey is Ja'Marr Chase from defending Southeastern Conference and national champion LSU. Trevor Lawrence, a quarterback at Clemson, is ranked as the top prospect for the 2021 draft ahead of Oregon offensive tackle Penei Sewell and linebacker Micah Parsons from Penn State.
The three players from Auburn on the Senior Bowl's initial NFL prospect list for the all-star game scheduled for January in Mobile are on not on the CBS survey. That group includes middle linebacker K.J. Britt, defensive tackle Tyrone Truesdell and defensive end Big Kat Bryant.
In the 2020 draft Auburn defensive tackle Derrick Brown was selected in the opening round at No. 7 by the Carolina Panthers. Cornerback Noah Igbinoghene was also a first round pick going 30th overall to the Miami Dolphins.
Defensive end Marlon Davidson was the third Tiger drafted going in round two (47th pick overall) to the Atlanta Falcons.
The Philadelphia Eagles drafted Auburn's starting offensive tackles with Jack Driscoll being selected in the fourth round and Prince Tega Wanogho, Jr. going in round six.
Safety Daniel Thomas was drafted by the Jacksonville Jaguars in round five.
Schwartz, Britt, Bryant and Truesdell are in their second week of preseason drills as the Tigers prepare for their 2020 season opener, a home game on Sept. 26th vs. the Kentucky Wildcats. Neither the game time nor TV coverage for the contest has been announced.
247Sports 10th Anniversary 50 Percent Off Sale